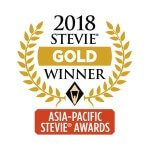 Interplan International Corp., Taiwan was named the winner of a Gold Stevie® Award in the Live Events, Innovation in Government Events category in the fifth annual Asia-Pacific Stevie Awards today.  As the first agency from Taiwan to ever receive a Gold Stevie® Award in the Live Event categories, Interplan once again establishes a milestone in the MICE industry.
The Asia-Pacific Stevie Awards are the only business awards program to recognize innovation in the workplace in all 22 nations of the Asia-Pacific region.  The Stevie Awards are widely considered to be the world's premier business awards, conferring recognition for achievement in programs such as The International Business Awards® for sixteen years.
With an emotional, Taiwanese culture based show, Interplan created an amazing event for the Opening Ceremony of the Taipei 2017 Summer Universiade which won the hearts of the entire Taiwanese population, all athletes present and the rest of the world!  "Our team was 98% all local talent who worked tirelessly over 18 months to make this unbelievable experience possible," said Michael Tu, Interplan President & CEO and Executive Producer of the event.  "It will be remembered for years to come!  We are excited to see the international recognition confirmed with this award.  Thank you, also to Taipei City Government without whose support it would not have been possible."
Gold, Silver and Bronze Stevie Award winners were determined by the average scores of more than 100 executives around the world acting as judges in March and April.  More than 800 nominations from organizations across the Asia-Pacific region were considered this year.  The winners will be celebrated at the Gala Banquet on June 1, 2018 in Hong Kong.
"Incredible accomplishment!  You can feel the amazing sense of pride from watching the crowd and performers.  This deserves international recognition." congratulated one of the international judges.  Another focused on the process, saying "This entry suggests plenty of time and energy went into the creation of an event with specific purpose.  The results are impressive and not surprising.  What a complex and detailed approach!  Well done!"
Details about the Asia-Pacific Stevie Awards and the list of Stevie Award winners are available at http://asia.stevieawards.com/2018-stevie-winners#Events